Yeah, I know it is easy and common to purchase your cookies for the Raya celebrations. However, this year might be the year that you want to bake it at home. If you have no idea what to do or how to start with, this article is here to share with you some ideas and guide you thru the process. 
London Almond Cookies
Ingredients – Biscuit:
100g all-purpose flour
125g cornflour
1 tbsp rice flour
62g + 1 tbsp unsalted butter
85g icing sugar
2 tbsp powdered milk
1 egg yolk
1 tsp vanilla essence
125g cornflakes
85g toasted whole almonds
Instructions:
Step 1: In a bowl, sift the all-purpose flour, rice flour, and cornflour. Whisk everything together and set it aside.
Step 2: In another bowl, add butter and icing sugar. Mix just until well combined. Add in powdered milk and mix again just to combine. Add in egg yolk, vanilla extract, and again mix just to combine.
Step 3: Add in blended cornflakes and mix to combine. While still mixing, lower the speed of the mixer and add in flour mixture bit by bit, mixing just to combine as you go. Form the dough into a ball, cover with cling film when not using.
Step 4: Take a piece of dough, flatten it a bit and place one almond in the center. Cover it with the dough and shape it into an oval log that is more or less thumb-sized. Repeat for the rest of the dough. Place them on a baking tray with a baking sheet.
Step 5: Bake at 170°C preheated oven for 20-25 minutes or until the bottom edges are golden brown and they're fully cooked. Cool completely on a rack, around 40 minutes.
Ingredients – Chocolate Coating:
400g chocolate
1/2 tbsp unsalted butter
Almond nibs
Instructions:
Step 1: Melt the chocolate and butter using the double boiler method.
Step 2: Take several cooled cookies and place them in the melted chocolate. Coat them well with chocolate and place them into a small-sized cupcake paper, pressing a bit on the side. While the chocolate is still not set, sprinkle some almond nibs on top. Let the chocolate fully set before serving.
Semperit Susu Cookies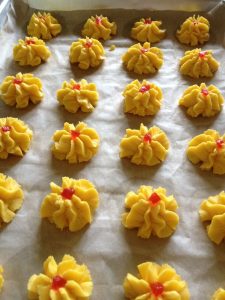 Ingredients:
250g butter, at room temperature
230g condensed milk
400g cornflour
2 tbsp castor flour
Cherries (to garnish)
Instructions:
Step 1: Combine butter and condensed milk in a bowl, mix well.
Step 2: Add cornflour and castor flour, combine together. Knead the dough until soft and smooth (does not stick to hands).
Step 3: Section dough into mold and press into shape. Then, arrange onto a baking sheet lined with butter. Garnish with cherries and let rest for 30 minutes.
Step 4: Bake at 160°C for 20-25 minutes. Then, allow to cool before serve or put into a container.
Mini Chocolate Chip Cookies
Ingredients:
250g butter, at room temperature
1 1/4 cups brown sugar
1 tsp vanilla essence
1 egg
2 1/2 cups wheat flour
2 cups cornflour
1 tbsp baking powder
1 tbsp baking soda
6 tbsp oil
2 cups chocolate chips
Instructions:
Step 1: Preheat oven to 150°C.
Step 2: Mix butter, brown sugar, vanilla essence, and egg in a bowl.
Step 3: Then, add wheat flour, cornflour, baking powder, baking soda, and oil. Mix until all combined and add chocolate chips.
Step 4: Place the cookie dough into the refrigerator for 30 minutes.
Step 5: Arrange cookie dough onto a baking sheet and allow space in between cookies to expand when baking in the oven.
Step 6: Bake for 20 minutes at 150°C.
Step 7: Cookies are ready when they expand and turn golden brown.
Step 8: Set it cool before removing them from the baking sheet.
Honey Cereal Crunch Cups
Ingredients:
2 tbsp honey
50 grams unsalted butter
150 grams cornflakes
Multi-colored sprinkles (hundreds-and-thousands sprinkles work well)
Instructions:
Step 1: Preheated your oven to 150°C.
Step 2: Take your cornflakes and place them in a zip lock bag. Gently crush them into relatively large crumbs.
Step 3: Melt butter and honey over a low fire, continually stirring the mixture. When the mixture is frothy turn off the heat.
Step 4: Add crushed cornflakes into the honey butter mixture and stir to coat the cornflakes evenly.
Step 5: Spoon cornflakes into individual mini baking paper cups and top with multi-colored sprinkles.
Step 6: Bake for 10-12 minutes, or until the cornflakes turn a darker shade of golden.
---