Air fryers have gained massive popularity because of their convenience and easy use to make a wide range of foods — frozen foods, fry potatoes, fry bacon, and etc. Air fryer is not a fryer but more like a small convection oven. It uses the internal fan to circulate hot air for faster cooking times compared to the standard convection oven.
Don't fried wet batter
Air fryers are not meant for wet batter or coating, it doesn't have things in it to set the wet batter. If you fry your batter corn dogs or anything with batter in an air fryer, you will end up with a cleaning mass.
Broccoli — Yes but No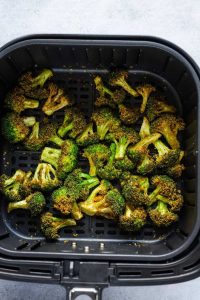 Why am I saying that? Because broccoli dries out quickly if cooked in an air fryer as air fryers get food dry. Your broccoli will simply turn to "Dust" if you cooked it in the air fryer.
You may put on some spices on the broccoli to avoid burning and here comes the secret — pour a tablespoon of water at the bottom of the air fryer, so the broccoli will remain tender without unpleasant taste.
Messy Cheese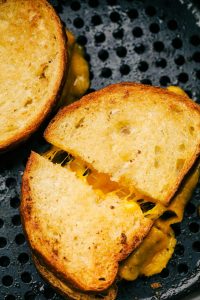 It is actually the same idea of wet batter. Cheese that melts in the air fryer will simply create a huge cleaning issue and is problematic for air fryers.  
Well, there is a way to cook cheese in an air fryer. If you fold your cheese inside bread or put it between two slices of bread, the grilled cheese then won't burn. But, the bread has to be some weight to ensure it won't slip off.
Rice or grains
Rice or grains need to be cooked in boiling water, but air fryers use the internal air to circulate and make it easily well cooked. The device is not built to let rice or grain be cooked with water.
Don't use general cooking oil
As we mention above, air fryers are not the usual or traditional fryer you use back in your kitchen. If you cook your food with the general cooking or fried oil in a low smoke point device, your food will result in a weird taste. Instead, you may change it to olive oil that generates a low smoke point.