Nespresso F111MEBKNE Lattissima One Coffee Machine
Roll over image to zoom in
Click to open expanded view
RM1,599.00 (-33%)
Weight: 4.2 Kilogram
Height: 25.6 Centimeter
Removable water tank: 1 Litre
Removable fresh milk container: 0.12 Litre
Used capsule container capacity: 8
Dimensions (WxDxH): 15.4 x 32.4 x 25.6 cm
Cable Length: 90 Centimeter
Folding drip tray for Latte Macchiato glass
Automatic shut off after 9 mn, programmable
One-touch recipe preparations (milk-based, hot water)
Automatic standby after 30mins
Split your payment with
. Learn more about
Fave
.
Compare
Nespresso  [ Lattissima One ] Coffee Machine- (F111MEBKNE)
Nespresso Lattissima One Coffee Machine is the most affordable and compact machine within the range, this convenient one touch milk machine fits perfectly in any kitchen
Lattissima One enables you to occasionally indulge yourself with top-quality Cappuccino and Latte Macchiato in the comfort of your home.
Lattissima One is equipped with a new and innovative fresh milk system that takes simplicity to the next level when preparing your favorite coffee & milk drinks. Just fill the milk jug with the amount of milk you want for your drink.
The machine will froth it directly into your cup and brew your coffee for a perfect coffee & milk drink.
The cleaning process is also very simple as the milk jug is dishwasher safe.
Lattissima One also features a premium design with qualitative finishing and material. With every machine enjoy a 14-capsule assortment to sample a selection of our coffee.
FRESH MILK, YOUR WAY
You are the master of your milk with the Nespresso Lattissima One. Just fill its single-serve jug with your desired milk volume. Then relax as the inbuilt milk frother makes it directly into your cup. And the jug is even dishwasher-proof. Easy, as you like it.
AN IDEAL FIT
Good things come in small packages with the Nespresso Lattissima One. Its compact design is sure to fit any kitchen. And any style, thanks to its chromed lever and subtle gloss. The most affordable Lattissima coffee maker, it'll even please your wallet. Simple is often beautiful.
HIGH-PRESSURE PUMP, RAPID HEAT-UP
Barista-quality coffee is never far thanks to the Lattissima One's 19-bar pressure pump. Revealing every aroma of your coffee pods. And to keep things moving, it's heated and ready in just 25 seconds for black coffee and 40 for milk coffee. The work of a moment.
ULTIMATE COFFEE QUALITY
Nespresso follows highly rigorous standards in selecting coffee. We create hermetically sealed and recyclable aluminium capsules as an optimum way to lock in freshness and provide exceptional taste. As a result,  we offer a variety of freshly brewed Coffees and authentic Espresso coffees to satisfy every taste at any moment of the day.
COFFEE VARIETIES
Nespresso offers a wide variety of Coffees to satisfy every taste at any moment of the day. All Nespresso Coffees can also be enjoyed with milk or milk froth to create a variety of different recipes such as Cappuccinos, Lattes and Macchiatos.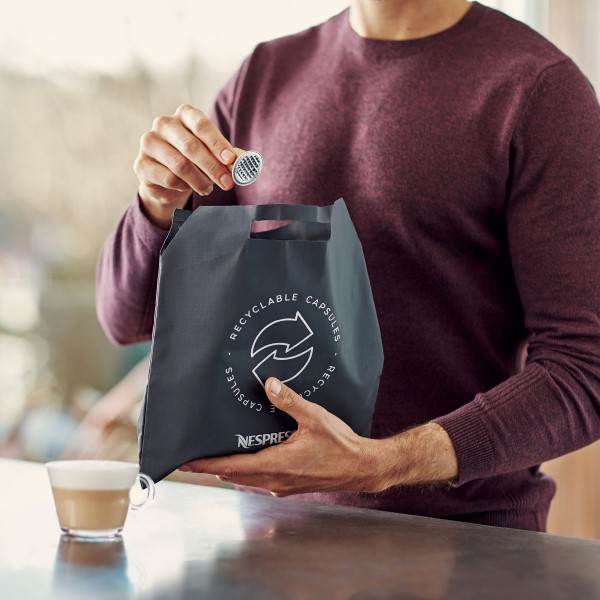 SPECIFICATIONS
Weight: 4.2 Kilogram
Height: 25.6 Centimeter
Removable water tank: 1 Litre
Removable fresh milk container: 0.12 Litre
Used capsule container capacity: 8
Descaling alarm
Dimensions (WxDxH): 15,4cm x 32,4cm x 25,6cm
Cable Length: 90 Centimeter
Folding drip tray for Latte Macchiato glass
One-touch recipe preparations (milk-based, hot water)
Automatic power off after 9 mins
Automatic standby after 30mins
User Manual Download HERE
Additional information
| | |
| --- | --- |
| Weight | 4.2 kg |
| Dimensions | 32.4 × 15.4 × 25.6 cm |