Samsung WW90M64FOPWFQ 9KG Front Load Washer, QuickDrive™
Out Of Stock
Roll over image to zoom in
Click to open expanded view
RM3,999.00 (-28%)
QuickDrive™
Q-rator
AddWash™
EcoBubble
Compare
Half the wash time, Double the lifestyle
* Tested on WW8800M compared with Samsung WW8500K. Saves 50% time on Cotton (40℃, half load) and eCotton cycle with washing performance within±2%. Saves 20% energy on Cotton (40℃, half load) and Super Speed cycle (40℃, 5 kg load), based on Intertek data. ** Up to 50% cycle time reduction without compromising on fabric care, as verified by Hohenstein' *** Durability confirmed by Rostest **** 10 years durability certified by SLG
Half the wash time*
Half the wash time, Double the time for you*
QuickDrive™ reduces the washing time by up to 50% and energy use by 20%, without compromising the cleaning performance. Its unique Q-Drum™ has a 'main drum' and a 'back plate' that rotate independently, ensuring clothes move dynamically and are washed quickly, efficiently and gently.*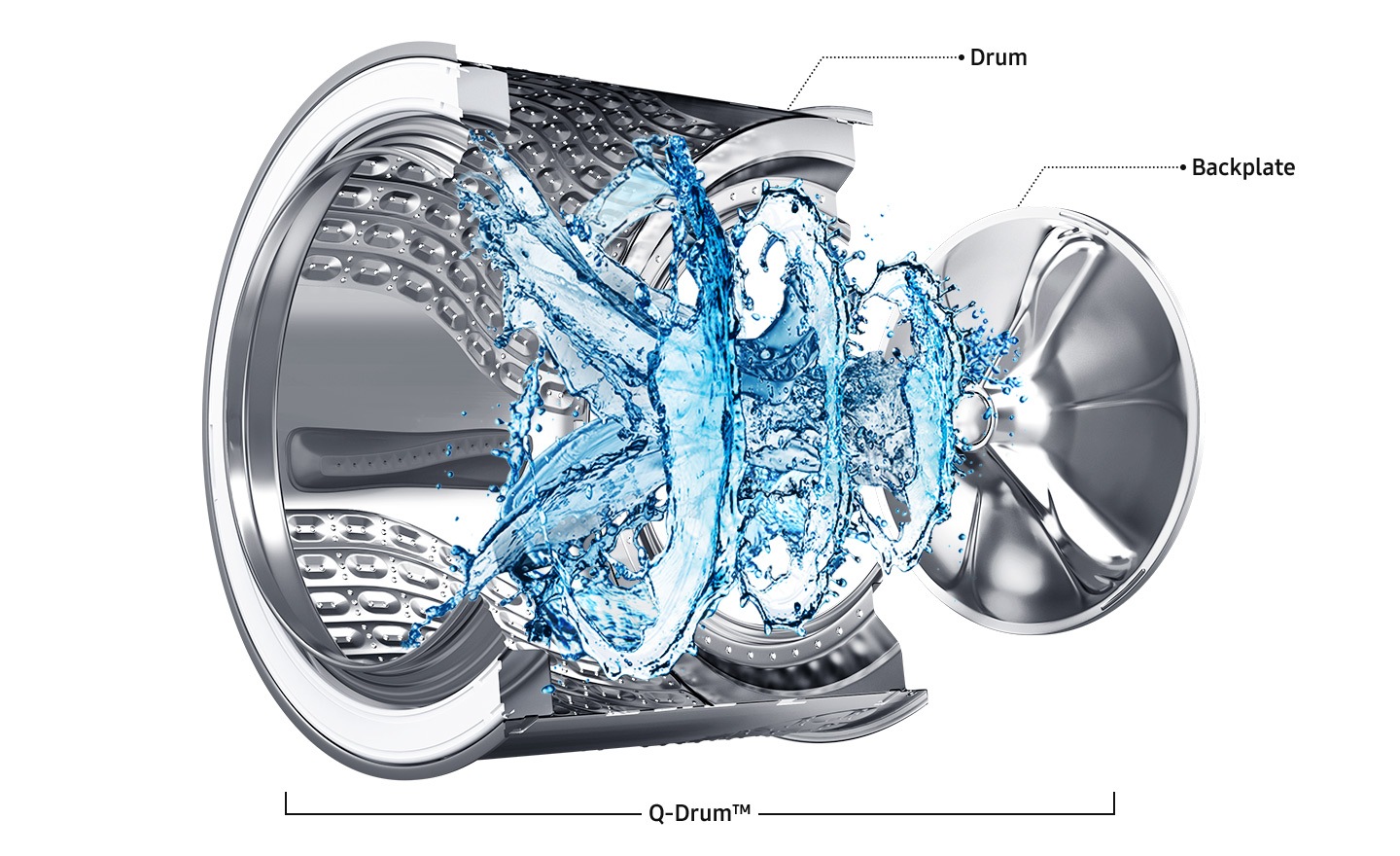 * Tested on WW6800M compared with Samsung WW6500K. Saves 50% time on Cotton (40℃, half load) and eCotton (40℃) cycle with washing performance within ±3%. and up to 20% energy on Cotton (40℃, half load) cycle, based on Intertek test data.
Add any item, any time
Simply add any item* during wash.
Missed a shirt? The Add Wash™ door lets you simply and quickly add forgotten clothes* after your wash cycle has already started**. You can also easily pop in hand-washed clothes that you just want to rinse or spin dry.
* Only fabric items, clothing, detergent and softener can be added. ** The Add Wash door only opens only when the drum temperature is below 50°C.
Samsung Q-rator*
Laundry Recipe
Laundry Recipe acts as your personal laundry expert and recommends the optimal wash cycle for each load**.
Super fast washing
Powerful cleaning only in 39mins*
Super Speed cuts the time of a daily wash by 34% to just 39 minutes*. QuickDrive™ saves time by moving clothes dynamically, while Eco Bubble™ ensures powerful cleaning. The rinsing time is also shortened using a Speed Spray and 'Swirl+ Drum'**, and by accelerating the spin speed.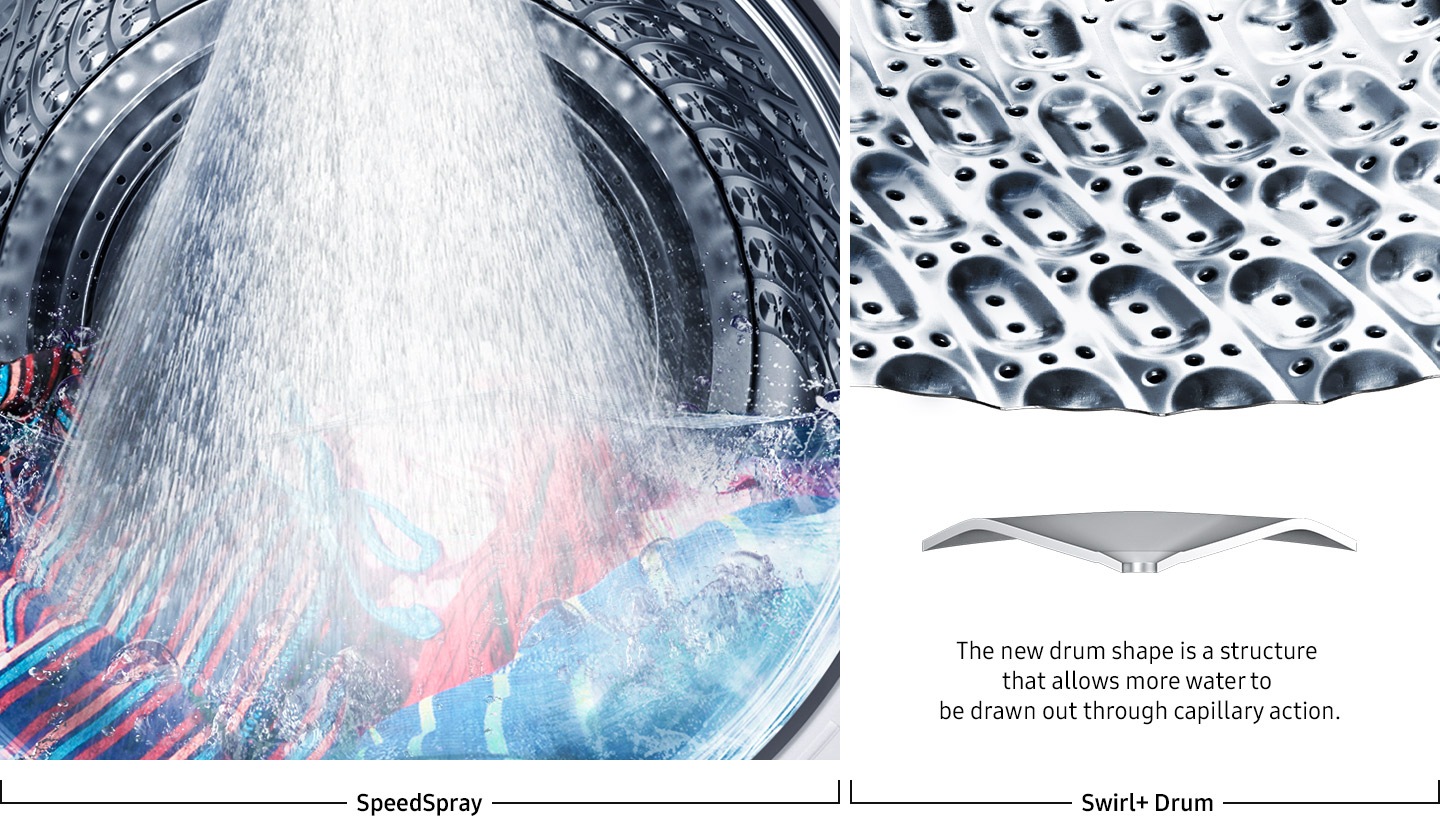 *Tested on WW6800M compared with Samsung WW6500K on Super Speed (40℃, 5 kg load). ** Tested on Swirl+ Drum compared with Samsung Swirl drum pattern based on internal test data.
Powerful bubbles
Powerful bubbles, outstanding cleaning
Eco Bubble™ technology delivers powerful cleaning, even at low temperatures*. Detergent is turned into bubbles, so it quickly penetrates fabric and removes dirt easily, while protecting its color and texture and saving energy**.
* Tested in accordance with IEC 60456-2010 / 4 kg Wash Load / Super Eco Wash cold (WF80F5E5U4W) vs. Cotton 40°C without Eco Bubble (WF0702WKU). Individual results may vary. ** Based on the Performance Lab Test report by Springboard Engineering on EMPA strips, comparing a normal detergent solution and bubble technology without mechanical action.
Intensive Stain Removal
Specialized soaking with bubbles to remove stubborn stains
With the touch of a button the Bubble Soak function helps remove a wide variety of stubborn stains. Clothes are thoroughly soaked in active bubbles, so any dirt and stains are loosened and can be removed much more effectively*.
* Tested in accordance with IEC 60456 5th edition / 8 kg Wash Load / Bubble Soak Wash (WF80F5E5U4) vs. Cotton 40/60°C, Synthetic 60°C, and Denim 40°C without Bubble Soak (WF0702WKU).
Keep washer fresh
Eco Drum Clean+
Eco Drum Clean+ cleans inside your washer and eliminates 99.9% of odor-causing bacteria* without using harsh chemicals. The frictional force of a powerful water jet and fast spinning also removes dirt from the rubber door gasket. It even notifies you when it needs cleaning**.
*Tested on WW6800M Eco Drum Clean+ course eliminates 99.9% of odor-causing bacteria from a inside of washer and removes and 99% of dirt from the rubber gasket based on Intertek test data. ** It notifies after every 40 cycles.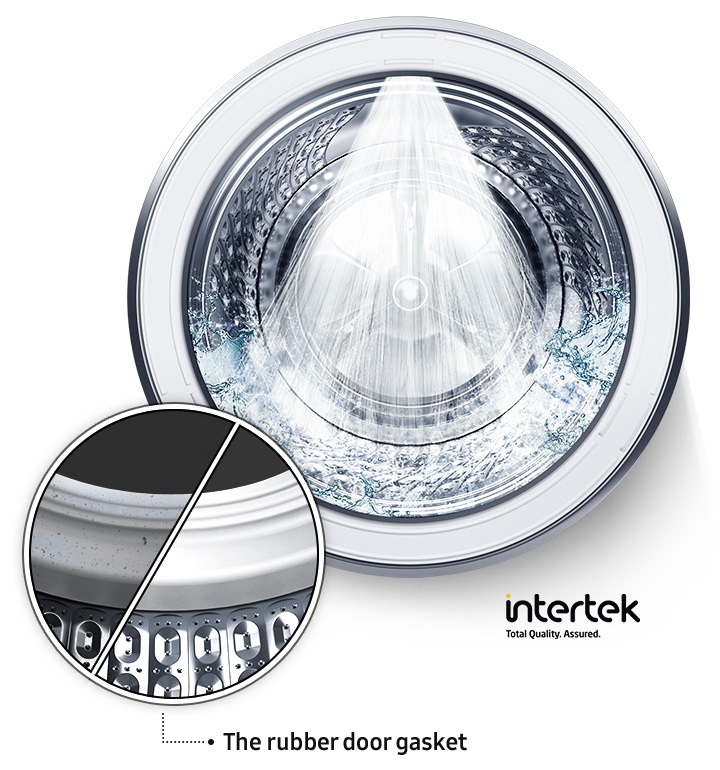 Quiet, powerful & durable performance
Digital Inverter Technology utilizes strong magnets for a quieter and more powerful performance, but consumes less energy than a Universal Motor. By eliminating the use of brushes, it provides outstanding durability* – backed-up by a 10 year warranty.
* Awarded a 20 year durability certification by the Association for Electrical, Electronic & Information Technologies in Germany (Verband Deutscher Elektrotechniker – VDE).
Peaceful washing
Peaceful washing anytime, anywhere
VRT-M technology reduces noise and vibration during washes*. A 3 Dimensional Vibration Sensor system keeps the drum balanced by spinning 14 stainless steel balls in the opposite direction to your laundry. Even when it's rotating slowly powerful magnets help prevent tiny vibrations and noises.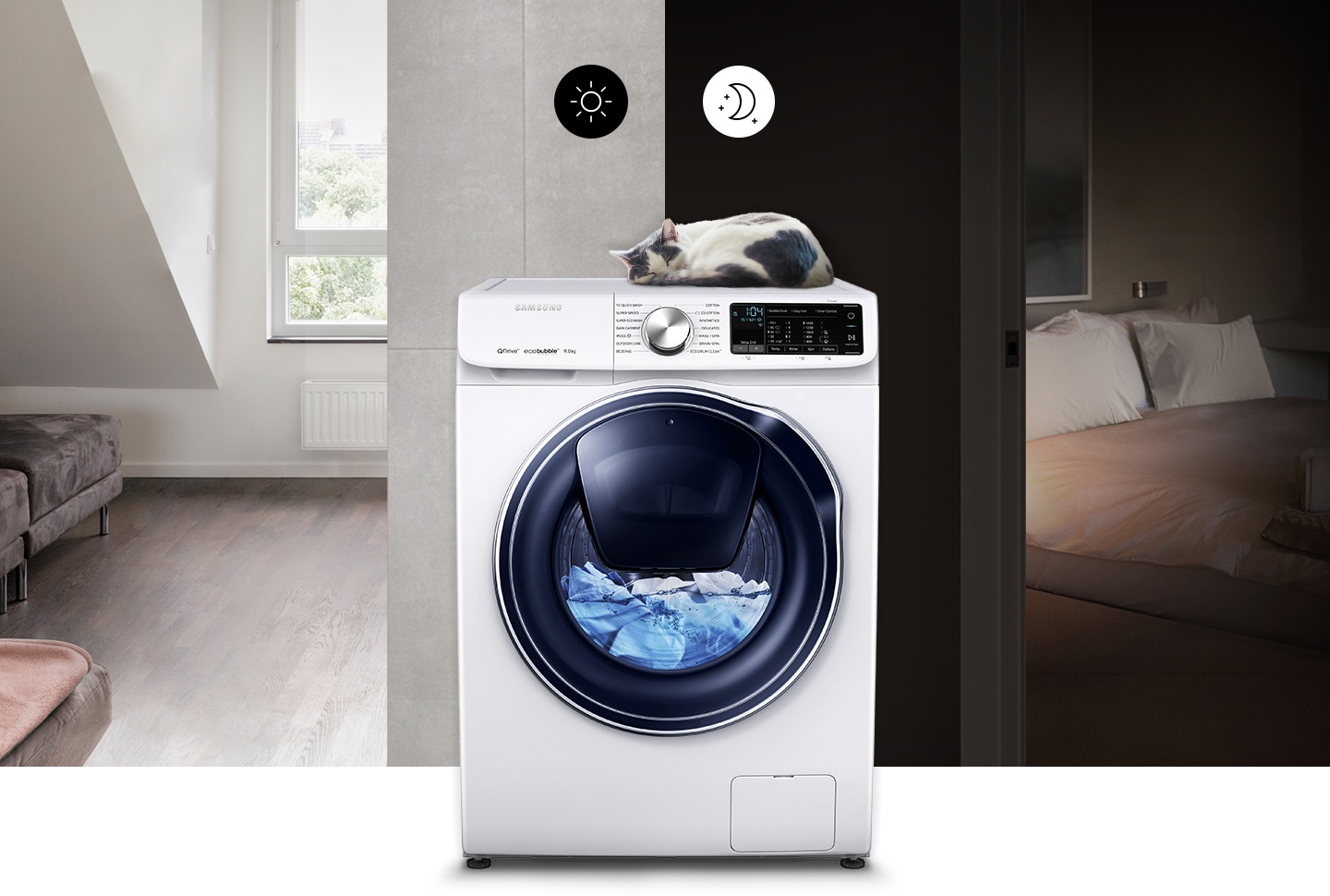 * Compared to a Samsung conventional washing machine without VRT-M.